Eco Council 2022/2023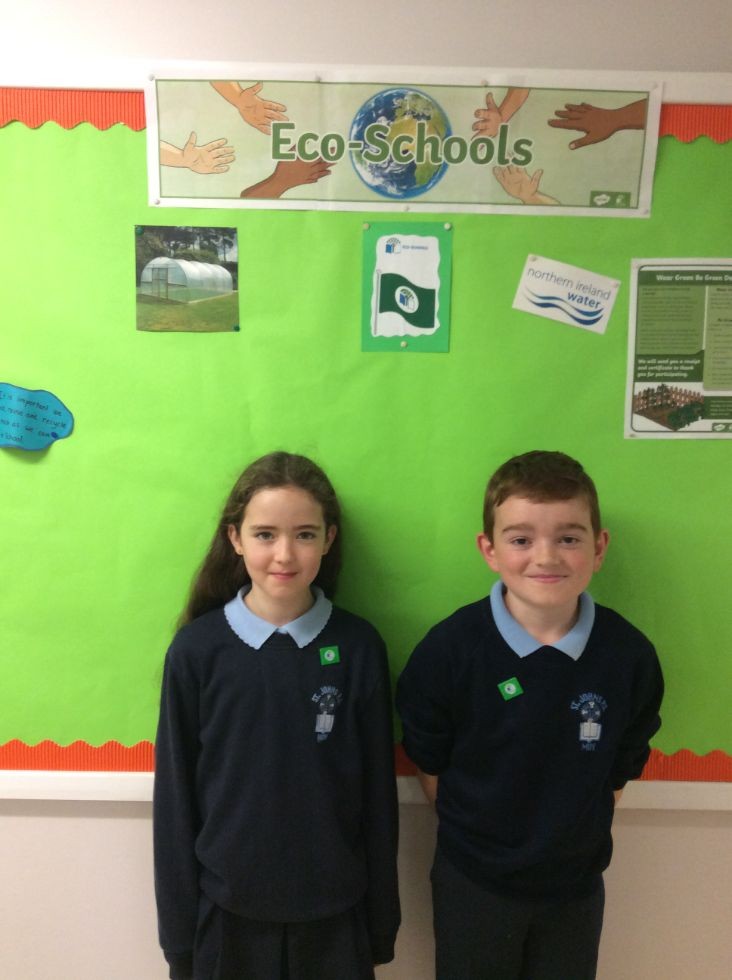 This year, we are working hard to maintain our 'Green Flag' status and continuing to be a greener, more eco-friendly and efficient school where our actions help the environment and make us more aware of the world around us.
We are focusing on the following areas/action plans -
1) Biodiversity
2) Litter
3) Energy
Recently, some people in our class wrote speeches to convince the rest of us to choose them and be voted the Chairperson, Vice-Chairperson and two secretarial roles within the Eco-Committee.
Our Eco-council committee nominated representatives as follows:
Chairperson: Annabelle
Vice-chair: Rory
Note-takers/secretaries: Charlie & Emma
As the P7 class, we are the Eco-Committee representatives for our school. We meet and discuss our progress and ideas regularly...we have plenty of ideas and fun activities planned for the year ahead!
P1-P6 pupils - if you have any ideas or suggestions, the Primary 7 Eco-Committee would love to hear them. We have a suggestion box outside the P7 classroom - feel free to let us know your thoughts on how we can help the environment and have fun at the same time!
Primary 7
News
Congratulations to Ellen in Primary 6 who created our school's Eco-code for the year. It is displayed in all our classrooms and reminds of what we have to do to continue to be more eco-friendly!
March 29th 2023:
Primary 7 class/Eco-committee travelled to Dungannon park for the annual 'Big Spring Clean Up'.
Unfortunatley, the weather wasn't really on our sides, however, the children managed to find and bag lots of rubbish and litter which helped to enhance the area and teach the children about the impact of littering on the environment.
Thanks to Peter from Eco-Schools NI and Linda from Live Here,Love Here for facilitating today's event!
St John's Primary School, 15 Benburb Road Moy Dungannon BT71 7SQ Telephone: (028) 8778 4489