Welcome
Welcome to St. John's Primary School website which showcases life and learning at our school.
Situated in the Parish of Clonfeacle, County Tyrone, our school is a happy, child-centred environment which is hard working and successful. We strive to ensure that the children 'learn to love and love to learn' and have many opportunities to develop their strengths and talents so they can achieve their personal best.
We hope you find our website useful and enjoy browsing and sharing in the experiences of the children.
Please contact us if you would like any further information.
Louise McKnight
Principal
Latest Photos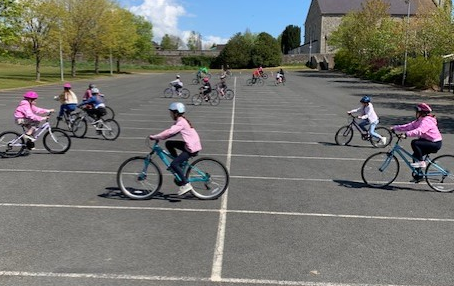 P7 - Ready to Cycle!!
P7 - Cycling Proficiency Award
Vet Ben is getting the surgery ready for his first patient.
Tommy and Senan are waiting patiently in the Waiting room with their animals.
Veterinary Nurse Jane takes down the details of her first patient, Millie.
The Vet checks Millie's ears.
He listens to her heart.
He gives her a wee injection. Millie doesn't mind!
Millie gets her teeth checked also.
Tommy's cat is next. The cat gets vitamins.
The Vet takes really good care of the cat.
Tommy is happy with his visit to the Vets and so is the cat.
Senan's tortoise needed a bandage.
Grace's dog had to stay overnight, but she didn't really mind.
The Vet's surgery is a busy place!
St John's Primary School, 15 Benburb Road Moy Dungannon BT71 7SQ Telephone: (028) 8778 4489